It may seem strange, but it is not all that uncommon for surfers to wear shoes while in the water.
Reef boots, commonly known as booties, are lightweight, flexible shoes made from rubber and neoprene (wetsuit material).
These shoes are ideal for walking over sharp rocks and reefs, and for insulating your feet in colder waters.
Let's take a look at a few of our favorite reef shoes, as well as investigate some popular questions about booties.
Our Favorite 8 Reef Shoes for Surfing
1. Our Top Choice: FK Surf, FK Reef Boot
2. Best High End: Patagonia, R2 Yulex Hybrid
3. Best Budget: Rip Curl, Reef Walker
4. Best Long High Ankle: Billabong, Furnace Hs Boot
5. Best Low Ankle: FCS Sp2 Reef Boot
6. Best Split Toe: O'Neill, Defender Tropical Split Toe Reef Boot
7. Roxy, Performance Split Toe Boot
8. Rip Curl, Pocket Reef Bootie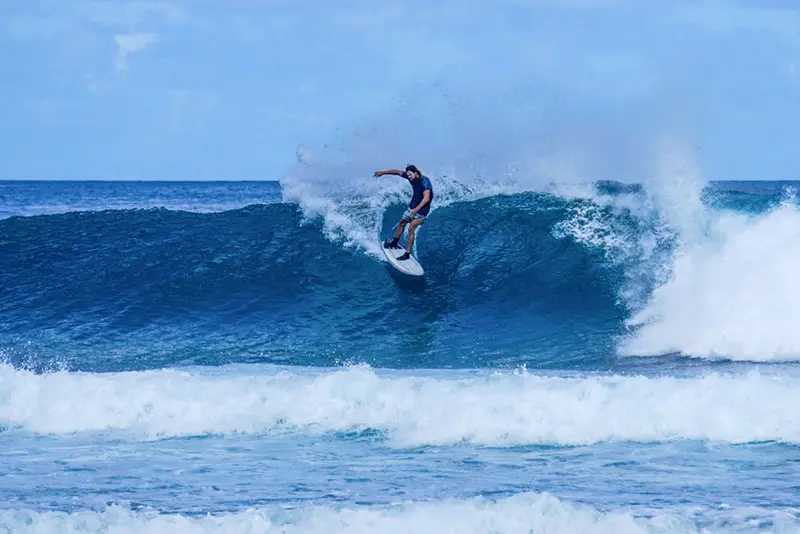 Our Top Choice
Fk Surf Fk Reef Boot - Black | SurfStitch
FK Surf prides itself on being a small surf manufacturer of high-quality surf accessories.
The FK Reef Boot is the perfect all-rounder reef shoe that will suit both males and females.
This boot is designed with a split toe and extra thin sole, which allows for a greater feeling between your feet and your surfboard.
With 1.5mm flatlock neoprene, your feet will remain flexible, protected, as well as insulated from cold water.
Furthermore, an adjustable ankle strap ensures that your boots are tight and secure, regardless of your foot shape.
Buy Now
Disclosure: We earn a commission if you make a purchase, at no additional cost to you.
Best High End
Patagonia R2 Yulex Hybrid Booties - Black | SurfStitch
Patagonia is a planet positive brand that produces some of the best accessories, clothing, and luggage in the surf industry.
Natural rubber is used for the soles of these boots, as well as the brand is Fair Trade Certified.
The R2 Yulex Hybrid booties from Patagonia weigh only 227g and come in a variety of sizes.
The microgrid thermal lining is fast drying and minimizes weight, while the Supertex soles with Tatex rubber touch points provide added friction and flexibility when riding your board.
Buy Now
Disclosure: We earn a commission if you make a purchase, at no additional cost to you.
Best Budget
Rip Curl Mens Reefwalker - Black | SurfStitch
If you are looking for a budget-friendly pair of booties but don't want to sacrifice too much quality, then the Reef Walker from Rip Curl could be the solution.
Rip Curl is well known in the surf industry as a producer of high-quality surf gear, accessories, and clothing.
The Reef Walkers are 2mm thick and come in a single color: Black.
The soles are lightweight and flexible with a simple slip-on and pull-off design.
These shoes are best suited for beach and river walking, however, they can be used for surfing if you desire.
Buy Now
Disclosure: We earn a commission if you make a purchase, at no additional cost to you.
Best High Ankle
Billabong 3Mm Furnace Hs Boot - Black | SurfStitch
Billabong is without a doubt one of the world's most famous surf brands, and for good reason.
Since 1973, Billabong has been producing apparel and surf accessories of the highest quality and style.
The Furnace booties are no different when it comes to the quality and style of Billabong.
Smart Foam, upcycled car tires, and neoprene scraps are combined in this boot to provide extremely high thermal retention as well as a highly flexible feel.
The soles on these shoes are only 0.3mm which provides a "real feel" feeling on your surfboard as well as a split-toe design that provides better control.
Buy Now
Disclosure: We earn a commission if you make a purchase, at no additional cost to you.
Best Low Ankle
Fcs Sp2 Reef Boot - Black | SurfStitch
Low ankle booties, although providing less insulation, make up for it with the added freedom to move your ankle.
The FCS Sp2 Reef Boot is lightweight and is made with 1.5mm 2-panel neoprene for optimum flex and sensitivity.
A double strap system tightly secures your feet into the boots, while drainage holes ensure your shoes don't become waterlogged.
These boots are ideal for surfing point breaks in warmer water, or for surfing over warm dry reefs.
Buy Now
Disclosure: We earn a commission if you make a purchase, at no additional cost to you.
Best Split-Toe
O'neill Defender Tropical St Reef Boot - Black | SurfStitch
There is no better foot freedom when it comes to reef boots than with split-toe boots.
Split toe booties provide more flexibility, control, and movement in your feet which creates a more "barefoot" type of feeling.
These boots are low ankle designed with a Velcro foot strap to secure your foot in the boot.
Furthermore, these boots include a heel cinch to tightly secure the boot and prevent heel slippage.
Buy Now
Disclosure: We earn a commission if you make a purchase, at no additional cost to you.
Roxy 3.0 Performance Split Toe Boot - Black | SurfStitch
When it comes to women's surf gear and apparel, no other brand comes close to competing with Roxy.
As the only exclusive female-only extreme sports brand, Roxy is well known around the globe for its social work and incredibly high-quality products.
The Performance Split Toe Boot from Roxy is ideal for cold water as it has high ankles and a thermal fleece lining.
Glued and blind stitched seams ensure insulation, while hydrolock seals prevent water from warm water escaping your boots and from cold water entering them.
This boot is best for water temperatures between 51°F and 58°F (11°C - 14°C).
Buy Now
Disclosure: We earn a commission if you make a purchase, at no additional cost to you.
Rip Curl Pocket Reef Bootie 1Mm - Black | SurfStitch
Have you ever needed to walk over a reef or sharp rocks to get to a break, but wished you didn't have to wear your booties once you reach the waves?
Thanks to the Pocket Reef boots from Rip Curl, this is now possible.
These 1mm boots are lightweight and fold easily to fit into your pocket or to tuck into your wetsuit.
If you don't enjoy surfing with boots on but need them to cross less than ideal landscapes, then these boots might be perfect for you.
Buy Now
Disclosure: We earn a commission if you make a purchase, at no additional cost to you.
What to Look for When Buying Surfing Booties
Buying new booties might not seem like a complicated task, but when you are faced with countless designs, shapes, and materials, it's easy to get lost.
When you head out to buy a pair of reef shoes for surfing, make sure to consider the following before making the purchase:
Material
Surfing booties should always be made with neoprene. The reason for this is that neoprene is porous, flexible, and a good insulator.
If your boots are made from a non-flexible material it will be difficult to ride your board due to restricted movements in your ankles, feet, and toes.
Another reason for using neoprene is its insulating properties. If you are using booties in cold water but they are not well insulated, then they will serve little to no purpose.
Ankle Support
Surfing booties come with two main ankle support designs, low-cut booties, and high ankle booties.
Booties with high ankles create more ankle support and are better for colder water, however, they restrict movement more than low-cut reef shoes.
Low-cut booties are best for warm water surfing when you need to cross sharp objects to get to the water.
They are light and keep your ankle free for maximum movement and flexibility.
Before you decide on which style is best for you, you should consider where you will be using them.
Soles
Booties designed for surfing should always have rubber soles.
These soles should be harder than the rest of the boot, but not so hard as to lose flexibility.
Using booties with no rubber soles (such as those used for fins) will not provide enough friction on your board, and therefore cause you to slip.
You should also consider the thickness of the soles.
If you will be walking over sharp rocks you may want thicker soles, but if you are using the boots purely for warmth then a thinner sole will provide a more free feeling between your feet and your surfboard.
Thickness
 As much as the thickness of the sole is important, so is the thickness of the neoprene.
The thicker your bootie, the more restricted you will be, however, as the neoprene thickness increases, so does its capability to keep your feet warm.
Using a bootie that is too thick in warm water will become uncomfortable, unnecessarily restrict your movements, and likely lead you to overheat.
On the flip side, choosing reef boots that are too thin will not provide sufficient warmth and therefore become somewhat pointless.
Brand
Although brands aren't everything, they do come with the trust of high-quality products.
If you are looking for reef shoes that won't break in the first month, then sticking to reputable brands is a good place to start.
That being said, popular brands tend to be overpriced, so consider this carefully before throwing more money than you need to at a new pair of surfing booties.
Price
Finally, you should consider the price.
There is no need to browse through hundreds of reef shoes that are well out of your budget.
Choose a spending budget for yourself, stick to it, and your buying process will be a lot simpler.
You should also note that just because something is expensive doesn't mean the quality is high.
Similarly, cheaper surfing shoes are not necessarily priced according to their quality.
Related Questions
Although you may now know what to look for when buying booties, as well as have a good idea of what reef shoes you want, you may still have a few remaining questions.
The FAQs below may help bring clarity to a few unclear points.
Why Do Surfers Wear Reef Shoes?
Surfing shoes are not all that appealing to look at, but the aesthetic look of these boots is not one of the three reasons surfers use them.
Surfers wear boots for three reasons, warmth, grip, and protection.
As wetsuits don't cover your head, hands, and feet, surfers that make use of icy water swell need to add some protection.
This is where reef shoes come in. With the added insulation on your feet, you will be able to surf for longer in cold water, as well as feel your feet, which makes controlling your surfboard easier.
Booties are also used to protect surfers' feet when they need to move over sharp land.
Some surf spots such as dry reefs, often require you to walk over a sharp reef in shallow water until you reach the break.
Similarly, to get to the take-off spot on a point break you often need to walk over rocks. Some surfers choose to brave this barefoot, while others take the more cautious route and use boots.
Finally, some surfers choose to use boots purely for the added grip. 
Although this is less common, thanks to surf wax and trackpads, some surfers simply prefer the boots over their bare feet.
Are Reef Shoes Waterproof?
Although reef shoes are made to be used in water, they are not designed to be waterproof.
As surf booties are made from the same material as wetsuits (neoprene) they are porous and flexible.
For warm water booties, drainage holes and good water flow are important to prevent overheating, while cold water booties are more insulated and held in the water.
This is much the same as how a wetsuit works in order to keep us warm.
In order to make reef shoes waterproof, the neoprene would need to be replaced with a harder, non-porous material, which would make them heavy and stiff, which is not ideal for surfing.
Are Reef Shoes Good for Your Feet?
Reef shoes are neither good nor bad for your feet, however, in some situations, they could be both.
For example, if you are surfing over a sharp shallow reef or point break, and need to cross sharp land before reaching the water, then reef shoes are without a doubt good for your feet.
By using booties you will be able to protect yourself from lacerations and dangerous infections from the reef's bacteria.
On the other hand, wearing reef shoes that are too small or securing your booties too tightly can restrict blood flow to your feet and toes, which if left unattended, can cause damage to your muscles and tendons.
Can You Wear Shoes When Surfing?
Strange as it may seem, you can wear shoes while surfing, although the type of shoes you choose to wear is important.
Using booties or reef shoes designed for surfing or other water sports will work perfectly, providing they are flexible and have rubber soles for friction on your surfboard.
That being said, using "regular" shoes while surfing does not work, and is dangerous.
Wearing land boots or shoes while surfing will not provide enough grip on your surfboard, as well as quickly become waterlogged, which will weigh you down, and cause a potential drowning risk.
What Are the Best Shoes to Wear Surfing?
The best shoes to wear for surfing are those that are designed for that purpose.
Some booties are designed for diving, some for walking around rock pools, while others are made specifically for surfing.
Wearing the incorrect shoe will make surfing difficult and uncomfortable.
If you are looking for shoes for surfing, your booties should always include the following characteristics:
Lightweight.

Made from neoprene.

Include a thin rubber sole.

Include an ankle tie or securing strap.

Insulting.

Well draining.
To abbreviate, the best shoes for surfing are surfing booties that are made specifically for the sport.
Water boots that are otherwise designed will not perform as efficiently on a surfboard.
Conclusion
Reef boots have become popular among surfers worldwide, both for protection, as well as for warmth.
Using the correct booties can be the difference between a thrilling cold water surf, and having your feet so cold that you can't stand on your board, or between healthy surfing feet and soles shredded like grated cheese.
If you are surfing in cold water or often find yourself surfing over shallow reefs or point breaks, then you should strongly consider adding some surfing booties to your surf gear.