As a surfer, we tend to get attached to our surfboards and tend to customize them to our own taste.
Painting your surfboard is one way to make it unique, but without using high-quality, non-toxic, clear varnish acrylic spray paint to clear coat your surfboard, your art will not last long before either fading or damaging your board.
Below we are going to look at the best clear coats to use on your surfboard, why a clear coat is important, as well as touch on some possible questions you may have about safely clear coating your newly painted surfboard.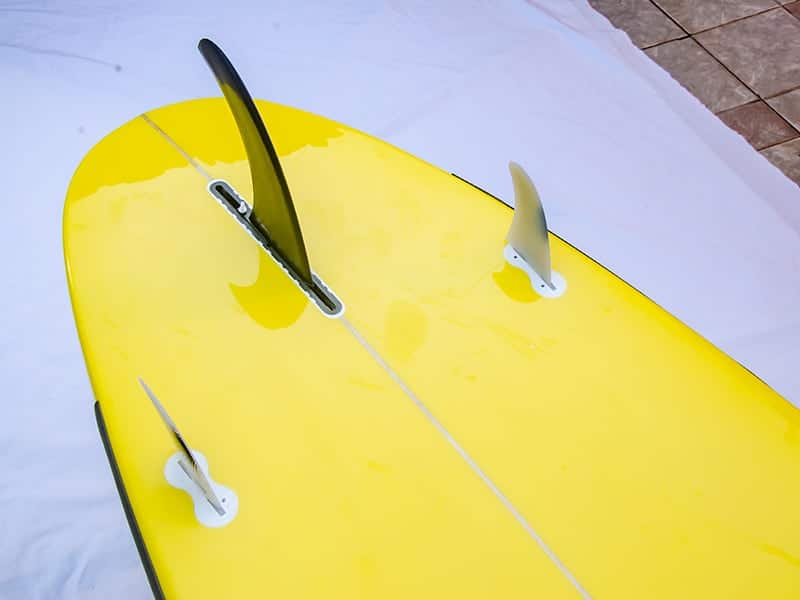 The 4 Best Clear Coats for Surfboards
There are loads of clear coats available, and many will work well for your surfboard.
That being said, certain clear coats are better than others, which is why we have suggested a few examples of acrylic-based clear coat spray paints for your surfboards.
Krylon, COLORmaxx Acrylic Gloss Crystal Clear Finish
The COLORmaxx Acrylic Clear Spray Paint from Krylon provides a well-thought-out balance of adhesion and durability while providing a superior gloss finish.
 It can be used on wood, metal, wicker, plastics, glass, ceramic, fabric, paper, and more all without creating the surface to turn yellow over time.
If you are looking to bring the color out of your paintwork while keeping it protected, this is one of the best gloss clear sprays you could use on your surfboard. 
Buy Now
Disclosure: We earn a commission if you make a purchase, at no additional cost to you.
10/29/2023 06:23 am GMT
Product Details
| | |
| --- | --- |
| Paint Type | Acrylic |
| Suitable Surfaces | Wood, Ceramic, Paper, Fabric, Glass, Metal |
| Color | Clear |
| Size | 11 Ounce (325ml) |
| Finish | Gloss |
Top Features
Protective non-yellowing finish.

A high gloss coat brings out the colors of the paint below.

Easy to use.
Krylon, Clear Matte Finish
If you are going for a more solid finish and wish to remove the shine from your surfboard, then the Clear Matt Finish from Krylon will do just that.
This clear coat will be fully dry within 2 hours, but be dry to the touch within 15 minutes. 
It is non-yellowing, smudge-proof, and can be recoated at any time (although this will begin to go opaque).
This spray can be used to spray over wood, metal, plastic, glass, plaster, ceramic, paper, and wicker to cover up to 20 square feet per can.
Buy Now
Disclosure: We earn a commission if you make a purchase, at no additional cost to you.
10/28/2023 05:33 pm GMT
Product Details
| | |
| --- | --- |
| Paint Type | Acrylic |
| Suitable Surfaces | Wood, metal, plastic, glass, plaster |
| Color | Clear |
| Size | 22 Ounce (650ml) |
| Finish | Matte |
Top Features
Quick-drying.

Non-yellowing finish.

Moisture resistant.

Smudge-proof.

Permanent, matte finish.
Montana, Clear Glitter Coat
If you are looking for something slightly more extravagant, then the Montana Clear Glitter Coat might be down your ally.
This clear coat comes with small silver particles that shimmer in the sunlight once applied.
The glitter coat can be used on paper, cardboard, primed canvas, wood, glass, metal, ceramics, porcelain, stone, acrylic, and other paintable materials to create an aesthetically stunning appearance.
Although this is a beautiful and unique look, you should only use it if you are surfing in an area with no sharks or dangerous sea life, as the shine could attract some unwanted predators.
Buy Now
Disclosure: We earn a commission if you make a purchase, at no additional cost to you.
10/28/2023 10:00 pm GMT
Product Details
| | |
| --- | --- |
| Paint Type | Acrylic |
| Suitable Surfaces | Paper, wood, glass, plastic, metal, ceramic |
| Color | Glitter silver |
| Size | 13.52 Ounce (400ml) |
| Finish | Gloss |
Top Features
100% lead and CFC free.
Extra coats create an added glitter effect.
Available in five metallic colors.
Mr. Top Coat Flat Spray
Mr. Top Coat is a clear coat suitable for finishing surfaces.
It can be used as the final finish on painted models or on bare plastic to reduce the plastic sheen, which makes it perfect for covering art on your surfboard.
This is a simple water-based topcoat that will seal in your painting while remaining non-toxic to the environment and easy to use.
Buy Now
Disclosure: We earn a commission if you make a purchase, at no additional cost to you.
10/29/2023 11:58 am GMT
Product Details
| | |
| --- | --- |
| Paint Type | Water-based |
| Suitable Surfaces | Plastic |
| Color | Clear |
| Size | 3 Ounce (88ml) |
| Finish | Flat coat |
Top Features
Flat coat finish.

Water-based solution.

Small cans are suitable for tiny paint jobs.
What Is a Clear Coat?
A clear coat is a see-through, waterproof varnish that is used to cover up and seal a painted area below.
Clear coats are pigment-free and resin-based to ensure added protection from the surrounding environment while adding shine and gloss to the artwork below.
In short, a correctly applied clear coat will extend the life and quality of your paint job.
Why Do I Need to Clear Coat My Surfboard?
The purpose of using a clear coat on top of your paint is to help protect it from the surrounding environment.
Because your surfboard will be in constant friction with water, as well as your feet, hands, and body, the paint on your surfboard will quickly rub off.
Using a clear coat will not only help prevent your artwork from chipping or being scratched, but it will give it a shiny, glossy finish (provided you don't apply too many layers).
What Can I Use to Clear Coat a Surfboard?
To safely, and correctly seal your surfboard's art from being scratched or becoming damaged by the ocean, you will need to use a high-quality clear acrylic varnish spray paint.
The reason you should use this type of clear coat is that it is water-based and non-toxic, as well as fast drying.
Enamel paints are oil-based and made for indoor use. 
Using an oil-based clear coat can cause your artwork to crack, and over time, turn your surfboard yellow.
Enamel paints also take much longer to dry than water-based paints.
Are There Any Alternatives to Clear Coating a Surfboard?
You do not have to use a clear coat on your surfboard.
Epoxy surfboards are finished with a hot coat that seals and hardens the board. This coat is gently sanded down with different grits until they are glossy and clear.
It is only when you paint your surfboard that you will need to use a clear spray paint coat to finish it off.
For this, you will need a non-toxic acrylic spray paint varnish. There is no viable alternative when protecting a newly painted surfboard.
How to Apply a Clear Coat on a Surfboard
Applying your clear coat is simple, but must only be done once your base coat or artwork has fully dried.
When your paintwork is dry you can take your clear acrylic varnish, shake the can well, and begin to evenly apply it over your surfboard.
You will need at least 3 coats, but the first two should be light coats that will dry quickly. You can allow for 10 – 20 minutes between coats for them to dry.
When you are ready to apply the third coat (If it is your final coat) then you can apply a slightly thicker layer.
Make sure to evenly spray your surfboard, as well as to avoid any sand or dust becoming trapped in the varnish.
Once your final coat is complete you can leave your board to dry for the next 24 hours.
To check if the varnish is dry you can lightly run your finger along the coat to ensure no paint comes loose.
If the varnish is still wet you will need to touch up the area and leave it to dry for longer.
How to Remove a Clear Coat
Acrylic clear coats can easily be removed with chemical cleaners such as lacquer thinners or other paint removers.
You should note, however, that it will not be possible to remove only the clear coat.
Once you begin the process of removing your clear coat, you should be planning on removing all the paint from your surfboard.
If this is not your intention then you should avoid the process altogether.
What Can I Use to Paint My Surfboard?
Before you add a final clear coat, you will likely be painting your surfboard in one way or another.
Whether you are completely respraying your surfboard or simply adding a few small artistic touches, the type of paint you use is important.
For starters, you should never use enamel on your surfboard. It will damage the resin on your board and turn it yellow.
Instead, you should use water-based paint such as acrylic.
Spray paints and brushes work well if you plan on covering large areas (or you are particularly skilled with a spray can), however, if you are going for detail, then surfboard paint pens may serve you best.
Conclusion
Adding a clear coat to your surfboard is not necessary unless you have decided to customize it with a new paint job.
In order to protect your artwork from chipping or becoming scratched, a non-toxic, water-based, clear varnish should be used.
Although there are many clear varnishes on the market, using a spray varnish that is not oil-based is the best option for surfboards.